Tag Archives: Sexy Vanessa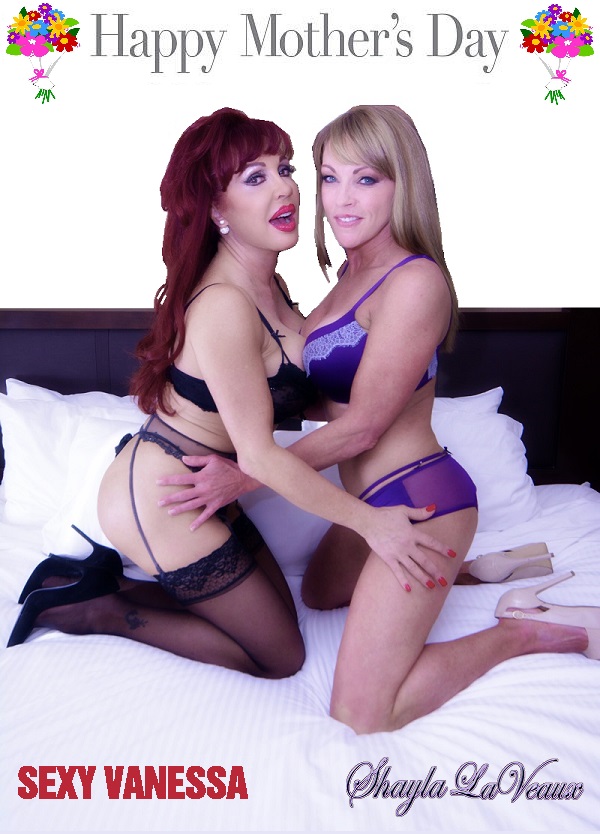 Shayla LaVeaux hopes that all of her fans who are moms and those who love MILFS enjoy this Mother's Day.
The newest SHAYLA.COM content update may not be wholly unfamiliar to fans of Shayla LaVeaux by now, since I wrote about my being present at the making of it in Shayla LaVeaux Shooting Schedule: Winter 2016. Not coincidentally, I also composed the text story accompanying the BTS photo set included in the update; an expanded and more graphic retelling of those events than what was posted here in February. No plot, Shayla and Sexy Vanessa didn't play characters, but they do play with each other and a double-headed dildo, extensively (if not explosively). Should one desire a hard copy of this carnal cougar team-up, it was recently released on DVD as Scene 6 of BRA BUSTING LESBIANS #4.
This content update consisted of 1 view-only video clip with a running time of 24:17 and two sets of related photo stills. One set of 53 pix titled "A Long Time Coming" contain photos taken by Vanessa's videographer, Sean, for PORNSTARPLATINUM.COM. The other set of 131 BTS pix were shot by me and are exclusive to SHAYLA.COM.
All content is accessible through your choice of the new $3/$20/$30/$60 subscription options.
(0_0)/
01/21 – SHAYLA.COM (a) with Sexy Vanessa G/G (b) with Jay Crew B/G
For AEE Week 2016, Shayla LaVeaux had content trade shoots arranged with five veteran adult performers. Unfortunately, three of them flaked. That being the case, there was only shooting on Thursday, January 21. D.Minion was not attending the convention this year, so I was tasked with taking BTS still photos in her stead. Continue reading Shayla LaVeaux shooting schedule: Winter 2016 →